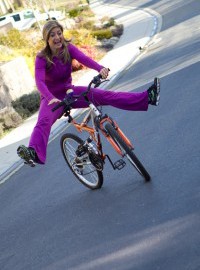 The following launches a weekly blog post from Neda Iranpour, with Reno's CBS station KTVN. I have the fortunate pleasure to train and coach Neda over the next several months in preparation for her first Edible Pedal 100 mile century. Enjoy her journey…
ABOUT NEDA:
Before you read my blog, let me explain why I signed up for the Edible Pedal 100. I covered the EP100 scholarships for KTVN Channel 2 News where I report and anchor the morning show every weekday from 430-7am. We always say certain stories leave a lifelong impact and this was one of them. I met a couple Reno High students who were among 8 across Northern Nevada to receive an EP100 scholarship. It was immediately clear that the EP100 organizers created this event not only to provide a healthy outlet for athletes (or wannabes like me!) but they also wanted to give students a chance to showcase their locally grown and raised foods — which will be served during the race. The more people sign up for the 10, 50, or 100 mile race the more money goes right back to student scholarships so… here we go!
I walked into the bike shop with my Lululemons and my beat up Brooks running shoes and said, "I'm riding 100 miles in September, I need a bike." They looked at me with a sweet smile and seemed to speed off to the bike rack, as if there was not even a second to spare. I tried out a couple bikes at one shop and a couple more at another shop. My baby felt just right. I hopped onto a black and green Trek and even though I know nothing about the inner workings of my bike, I know that it felt good to ride… I mean, real good.
Julie Young, Director of Silver Sage Sports Performance Center and a world champion cyclist has so kindly offered to be my coach! I will learn to ride a bike properly (from hopping on and clicking in to conquering a mountain — oh boy!). The winner of the Tour de L' Aude (the woman's version of the Tour de France) will train me for the grueling, yet amazing EP100. A century ride that takes cyclists up Kingsbury Grade is no joke, so they say. But, I'm sure there will be plenty of jokes along the way. I'll gladly blog about the mishaps, the nerves, the butt soreness, and the rush of the ride!  LET'S DO THIS!
Day 1:
I got my bike — thats a good start, right? Now what?!
Well, Julie Young (have I mentioned she is a world champion cyclist and my new coach?) she wants to meet with me to do some sort of analysis.
I am kind of nervous to meet her, she's a PRO for crying out loud! I went to her office at Silver Sage Sports Performance  Center in South Reno where I quickly learn that Julie is very detailed in checking every bone, joint and muscle to make sure I am as safe and efficient as possible on the bike. Who knew my flexibility and ankle strength mattered. Don't you just sit and pedal?
Julie explained that when you train as much as I am about to, then it's all about making every move as easy as possible. So the goal is "ease and efficiency" — sounds good to me!
Julie got images of me pedaling on my stationary bike. Then she pulled out what looked like a giant protractor and measured the angle of my knees. Apparently I was in a danger zone. So she adjusted my seat and my handles until all my angles were good for her. My back was straighter, my core was tighter and each rotation allowed me to use my glutes and leg muscles. My arms used to be like straight logs which would've killed my neck and shoulders. So Julie taught me to bend my elbows and relax. Relax I did… until I got home.
After all her adjustments I was looking forward to hopping on but guess what? I couldn't get on!
Let me back track a sec. I raced last year in a 68 miler called Ride Ataxia in Davis, CA. So you would think clicking into those pedals would be a cinch. But the problem is… every time I had to click in or out of the bike I would get a knot in my stomach and a wave of fear would rush over me. Stop lights were my biggest fear because I would relive my many moments of falling. Do you ever worry that you could topple over and a car might run right over your head? Ok sorry for the graphic and scary thought, but this is what goes on in my twisted head. I work for the news, we see and hear it all!
But I put the fear aside because I got a giant race ahead of me and this time I think I would've been able to click in, if only my short legs could get over the seat. I tried over and over again but I really couldn't reach… short people problems.
So I called Julie in a panic because I didn't want to miss a day of training. She said to not to worry and try a seat that would allow me to sit further back and a bit lower. I went to Reno Cycling and Fitness and they got me a great demo seat. Julie said she never remembers not being able to get ON the bike so like a good coach, she wanted to see what the heck I was doing wrong so she could show me what NOT do. I hope that by the next post I will be on the bike. If not, these blog updates may be a bit… repetitive. Wish me luck!
Neda Iranpour
KTVN Channel 2 News
FACEBOOK
TWITTER @lightenupwneda
https://silversagecenter.com/wp-content/uploads/2014/06/bikegoofy-200x300.jpg
300
200
Evelyn Fassett
http://silversagecenter.com/wp-content/uploads/2014/06/SS_14171-Logo-Development-SportsLab-Horz-header-300x83.png
Evelyn Fassett
2013-06-21 15:49:04
2013-06-21 15:49:04
LET'S RIDE WITH NEDA!