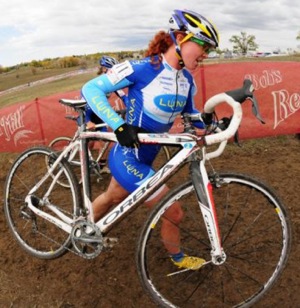 Teal Stetson-Lee has been an athlete for most of her life, growing up as a Nordic ski racer in Durango, Colorado and participating in three Junior Olympics.
At the age of 20, she discovered mountain biking and cyclocross. She won the 2009 Collegiate Cyclocross Nationals for Fort Lewis College and then joined the Professional Cal Giant Cyclocross team in the fall of 2010 for her first year of elite racing. After that, she rode for the prestigious Luna Pro Team for three years. She now rides for Scott Sports and won the Pro Enduro at the Sea Otter Bicycle Classic in April 2016.
Much of Stetson-Lee's professional success has been based on dedication, hard work and listening to her body. In the last two years, she decided to migrate from cross-country mountain bike racing to enduro mountain bike racing and cyclocross because she realized she was most talented in short power efforts and technical riding.
Working with Julie Young at Silver Sage Sports & Fitness Lab confirmed the science behind that decision. Young conducted a lactate threshold test on Stetson-Lee earlier this year, which helped her identify Stetson-Lee as a power athlete. "The test made it clear that she's very good at putting out intense bursts of power for short periods of time," Young explained.
"I kind of knew that, but the test confirmed it," Stetson-Lee said. "Being an athlete can be kind of crazy as we're always working really hard to try to be the best we can but if we don't know what our natural strengths are, it makes it even more challenging. When you go with your strengths, instead of against them, it makes the path to success so much more attainable."
Young shares that threshold testing is arguably the most important predictor of performance in endurance events (cycling, running, cross country skiing). "Training allows us to effectively improve our body's ability to metabolize (for energy) and buffer the lactate, and as a result, we push the lactate curve to the right," she says. "While much of VO2 value is genetically determined, your lactate threshold and your lactate threshold as a percentage of your VO2 Max is very responsive to the proper training."
"It's good to get a baseline as it gives me a point for understanding what it takes – power-wise and heart rate – to get into that zone where I can start producing lactate acid," Stetson-Lee said.
The Silver Sage lactate threshold protocol provides athletes with critical pieces of information to help improve training:
Heart Rate at lactate threshold: this will be used to derive or fine-tune heart rate zones for specific training intensities.
Power output or speed at lactate threshold- this can be used to track fitness and refine power specific or speed-specific training zones.
This test includes an individualized analysis of the data and determination of training zones based on these results. Individualized science-based, systematic training plans are available for an additional fee.
"Going through some testing and working with athletic experts like Julie can help athletes to find focus with what fits their strengths and body type best, instead of always feeling like they are trying to beat their head against the wall with training and trying to be something they are not," Stetson-Lee said.
We can't promise you'll hit lightning fast downhill enduro speeds as well as Stetson-Lee, but we can help you pinpoint your strengths and weaknesses, that will help you improve the way you train and perform. Click here for a better idea of what to expect during your lactate threshold test. And give us a call at 530-448-0498 if you'd like more information.
https://silversagecenter.com/wp-content/uploads/2016/07/teal_stetson_lee.jpg
308
300
Jackie Shelton
http://silversagecenter.com/wp-content/uploads/2014/06/SS_14171-Logo-Development-SportsLab-Horz-header-300x83.png
Jackie Shelton
2016-07-05 07:58:02
2016-12-03 09:29:47
Going with Your Strengths