Below a post from Martin Benes, Head Coach for Sugar Bowl Academy Nordic Ski Team. We at Silver Sage Sports and Fitness Lab sponsor the Sugar Bowl program, lactate threshold testing these talented athletes in summer, fall and winter.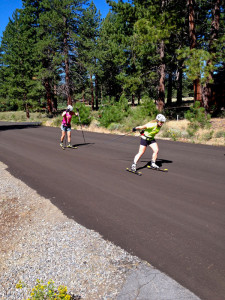 I was recently at a USSA Nordic National Under-16 camp in Jackson Hole, WY. We had four athletes from the Far West division, including 2 from Sugar Bowl Academy. We spent two afternoons working on agility courses on rollerskis. During setup I was chatting with a coach from the Norwegian National Sports Academy in Oslo. "We never do agility workouts on rollerskis", he remarked. I was a little surprised because in the US, we have been spending an increased amount of time working on it. "Our kids just play on rollerskis and sometimes go into the skate park when they are younger," was the practically the next words he uttered. That made a lot more sense.
I began to wonder what place agility has in our training. It struck me that in Norway they never do specific agility "workouts".  Rather it is often built into longer workouts as part of the warm up or even as games when kids are on skis younger. It almost seemed to me that US coaches were trying to make for lost time, for those kids who hadn't grown up skiing to school. The athletes who didn't drop into their local skate park on rollerskis as a twelve year old. Our cross-country skiers are often good endurance athletes, but still need work on technique. To me it still held a large place in how we train on rollerskis.
Agility training enables skiers to be more comfortable on their skis; improving their balance, building strength, and developing natural speed. It pushes the comfort level and allows skiers to fail. It provides intrinsic motivation as skiers try to master skills in an agility course and set small, personal goals for themselves. In one of the bigger pieces, it also challenges athletes on a mental level. Forcing them to complete new motor skills will, in theory, allow them to be more adaptable to technique work later in the same session. In short, agility training on rollerskis (and on skis) makes us better skiers.
The next piece of this is how to incorporate some of these pieces into your own skiing. There are a couple of ways to do this. One option is to set up a line of eight or ten cones (or articles of clothing, water bottles, etc.). Before you begin your workout, ski through them on one ski only. Alternate legs, and ski on each leg three or four times. This will work on single-leg balance, but also force you into making quick adjustments to your body position and weight shift. Two other drills you can throw into your skis are 180 jumps going both directions, and backwards skiing. There are many options for exercises, and it is important to switch drills up frequently. Channel your inner Norwegian kid and play around on your skis, trying new things, pushing your comfort level, and become a better skier.
https://silversagecenter.com/wp-content/uploads/2014/08/sba-rollerski1.jpg
600
800
Evelyn Fassett
http://silversagecenter.com/wp-content/uploads/2014/06/SS_14171-Logo-Development-SportsLab-Horz-header-300x83.png
Evelyn Fassett
2014-08-26 16:55:33
2014-08-26 16:55:33
Sugar Bowl Academy Nordic Ski Team, Coaches Corner