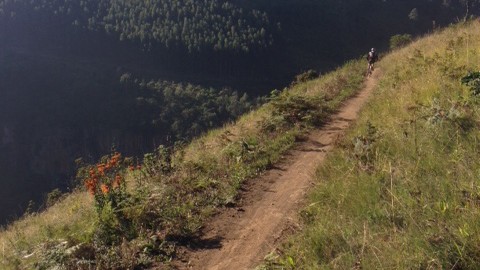 Andy's Odyssey Continues…
On day 4 our team GC ranking was 69th, we were actually doing quite well-things change and new opportunities arise.
Today we started in batches of 100.  We were batch G, the last.  Due to splintered team results we now 'didn't count'.  And yet three amazing things happened today.
1. Josh Fonner- the legend, my captain, rallied after yesterday's sickness and got on his bike.  I'm so proud to ride with this guy.
2. Group G (The Gastro group) allocation, allowed us to move forward and lead with a ten minute spread between the group in front. This gave us ample opportunity to feel the fast freedom of some world class singletrack
3. The Umkomass Valley, a spectacle of incredible beauty with a trail named 'wow' for good reason.  To be perched on the side of the mountain and travel at speeds non human on this tacky dirt-what a treat.
We descended for 20km to a valley floor of a different climate, after figuring out a technique to avoid  and mitigate the non technical SA's. The valley nicknamed Death Valley was Hot!  Now all we had to do was reach our flat point water stop at 40km and then climb out for 60km, uphill that is.
I had told Josh that I thought most of the climb was on fire road, actually it was mostly singletrack, and at times a good grind.  In fact about 85% of today was s-track.
Water point two had a great spread of food including hamburgers.  What the heck, my first real red meat!  Then another 1000ft of climbing to the peak before we rolled though the high Forrest toward our camp.
Sometimes things happen that are unexpectedly shocking, or at least for me.  So when in the final 2km, riding aside a sealed road, I saw someone's pet dog get run over, I felt quite heartbroken for the imagined kid that loved that dog.  It made me cry (perhaps I was just tired), but it reminded me too of our temporary state in this world and how it can change in the skid of a tire.
We made it back to camp in 6hrs 29m, not bad for sick guys.
We can't wait to be done tomorrow and swim in the Indian Ocean at our final destination.
https://silversagecenter.com/wp-content/uploads/2014/05/image_1.jpeg
640
480
Evelyn Fassett
http://silversagecenter.com/wp-content/uploads/2014/06/SS_14171-Logo-Development-SportsLab-Horz-header-300x83.png
Evelyn Fassett
2014-05-09 12:16:59
2014-05-09 12:16:59
Day 8-JoBerg2c, Ixopo to Jolivet. 98km and 1700m