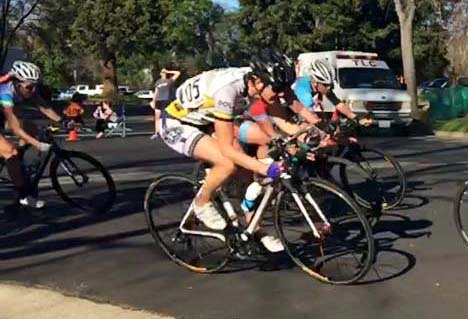 Contributed by Heidi-hanging-in-there-tough Littenberg, and Silver Sage sponsored Reno WheelWoman team member…
Lately, it's been difficult to remember Julie's mantra that races are a way to express hard work, rather than focusing on just the result.  When life is stressful, sometimes that lift from a good result helps raise the spirits, even if it is temporary.  But for me, the pursuit of the result when I'm stressed seems nearly impossible and I can adopt a "why bother?" attitude.  I don't want to put myself out there if I feel like anything less than some self-imposed goal will be a failure.
I came into the Golden State Race Series weekend with those kinds of emotions front and center.  I hadn't raced in two months.  That's a long time to sit there and wonder if you've worked hard enough when you know the competition has been training.
On day #1 of the two-day event, I had a good warm-up and hit the pavement, ready to start on one of my favorite criterium courses.  It was hot enough to make everything feel like slo-mo, but during the race, my legs and lungs felt fantastic.
Criteriums really revolve around tactics and my mind lapsed on the last lap, which is the critical time to set up the sprint.  I crossed the line after an hour of racing and briefly felt bummed for lack of a result.  On the cool down lap, though, I put the result into perspective.  Physically, things were great, despite being sleepy and it being a long, hot day.  Mentally, I knew it was just bad tactics that got the better of me.  A bit of chatting with friends and I said, "Luckily, that can be fixed."
I had the opportunity on day two of the weekend to see if I could make improvements.  I was super tired (motel beds really are awful), but as we settled in to the race, I realized my legs and lungs were there and I was racing on one of my all-time favorite courses with a great field.  I had the opportunity to prove to myself that I have indeed trained hard enough when a team tried to split the pack.  A quick "on your right" and I went around them and closed the gap with a pretty big effort.  That kick started my brain to have a laser focus on staying at the front of the pack.  I could hear Julie saying, "You 'belong' at the front if you make it happen for yourself, which is possible because you have put in the hard work."
The circuit race finish is tricky and it got the better of me a bit, but my spirits were raised anyway.  I moved up the leaderboard for the weekend and felt like my racing brain came back.  My concerns about the physical were put aside and they gave way to the tactical during the race.  And, most important of all, I had a blast racing my bike.  That expression of hard work happened and it felt great to be reminded of just how powerful that can be.  On to the next race!
https://silversagecenter.com/wp-content/uploads/2015/05/10462858_565634063573351_265138718178428755_n.jpg
319
468
julieyoung
http://silversagecenter.com/wp-content/uploads/2014/06/SS_14171-Logo-Development-SportsLab-Horz-header-300x83.png
julieyoung
2015-05-05 16:34:27
2015-05-08 12:08:53
Synching the Mental with the Physical