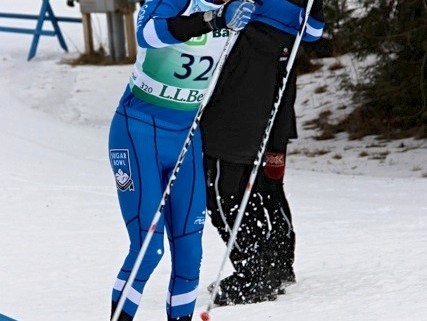 This blog post comes from, Silver Sage Sports and Fitness Lab sponsored, Sugar Bowl Elite Team member Spencer Eusden with insight into how he and teammate Emily Blackmer are preparing for the final SuperTour races of the year. These races will be help in the end of March in Craftsbury, Vermont and are some of the most competitive races held in the United States each year.
While the elevation, between 6,000 and 7,000, at which we normally ski is great for bringing us lots of snow, it can make it difficult to race well at sea level. Lower levels of available oxygen at altitude make the same pace take a greater physiological toll than at sea level.  Consequentially, our training pace at altitude is slower than it would be at sea level. However, when we go back to race at sea level, in order to be successful, we race at a pace significantly faster than we are used to. Here are a few of the things Emily and I have been doing to prepare our bodies to move fast in the upcoming races in Vermont.
Speeds:
Short sprints are a great way to practice moving quickly without overly taxing your body. We have been including sets of 10-20 speeds into two of our workouts each week to improve efficiency at high speed. This past Tuesday I did the following workout skate skiing at Royal Gorge.
Warm Up: Ski easy for 20 minutes then do three 10-second speeds of 70%, 80%, and then 90% of maximum speed.
The Workout: 20 speeds that are 10-15 seconds long with at least 2 minutes of recovery between each speed. I like to break the speeds up into sets of 5-8 with 7-10 minutes of easy skiing in between each set. This time I started with 8 V2 speeds on flat terrain. Then, after skiing for 8 minutes easy I did 6 uphill V1 speeds. I was feeling a little tired after the uphill speeds so I took 12 minutes of easy skiing before the final set of speeds. I finished the workout with six 15-second speeds on variable terrain where I would have to change technique at least once.
Cool Down: Ski easy for 20 minutes. Change into dry clothes and eat a snack once you're finished.
Intensity Training
We normally do intensity training once or twice a week between races during the winter. When prepping for races at lower altitude, we often keep the number of intensity sessions the same, but adjust the workouts slightly to promote a higher pace. Typically this means that each interval is shorter and the total amount of interval time is lower, but the effort of each interval is 95-100% effort. Below is a workout we did with the rest of the Sugar Bowl Nordic Team as they were prepping for Junior Nationals next week.
Warm Up: Ski easy for 25 minutes then do a three minute long interval just below your lactate threshold, or about 80% of max heart rate.
The Workout: 5-8 one minute long intervals with 2 minutes recovery. Each interval is a maximal effort. We chose to do this workout over rolling uphill terrain and start each interval at the same place. This way we could gauge how much distance was covered in each interval from one to the next. I left my drink belt at the end point of my first interval as a reference point. In the range of 5 to 8 intervals, we continue until the distance we cover during the interval drops markedly from the previous one.
Cool Down: Ski easy for 30 minutes. Change into dry clothes and eat a snack once you're finished.
By including more speed sessions in our normal training and adjusting the types of intensity sessions we do, we are better able prepare our bodies to move at the faster speeds we see at lower elevations. You can follow the Sugar Bowl Elite Team as we race later on this March on our blog (sugarbowlnordic.blogspot.com).
https://silversagecenter.com/wp-content/uploads/2016/03/spencer1.jpg
640
427
julieyoung
http://silversagecenter.com/wp-content/uploads/2014/06/SS_14171-Logo-Development-SportsLab-Horz-header-300x83.png
julieyoung
2016-03-06 07:55:51
2016-03-06 07:55:51
Preparing for Low Elevation Races