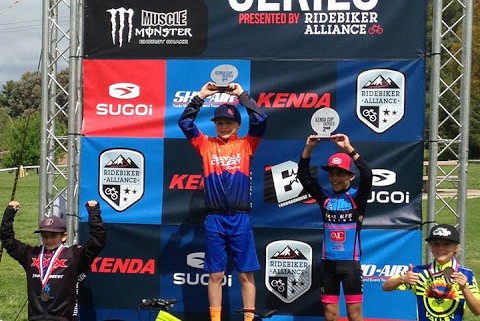 Contributed by Travis Boucher, o2fitness-athlete. Enjoy a recap of the race action from his first national level mountain bike race of the year.
I was very surprised that I was going to LA for a mountain bike race when I got pulled out of school on Friday even though my parents had already paid for the race and we all packed up our clothes. I read my book most of the way there and then played on an iphone until the battery light popped on just before Grapevine.  We stopped, checked what our choices were, then drove back 20 miles to an O'Reilly to get the new alternator for our Forerunner. My dad fixed our car in 45 minutes and we were off again.
We arrived to the hotel around 10:00pm, unloaded the suitcases and the dog, it was 10:25pm and I went to sleep at 11:00pm. The next day was better though. I woke up and ate a delicious breakfast my mom had made and packed before we left. Soon after that we all went down to the park so I could pre-ride the course (yes, even the dog went). I pre-rode the course and decided that I loved it because of the long, steep uphills. I also loved the amount of hills and the technical downhills. Also, the grassy corners at the start/finish.
After my pre-ride, we stayed to watch the cat 1 and pro races. I watched Nathan Barton race his Cat 1 19-23 class and get 3rd – awesome job Nathan! The pro women race was good to watch because I got to see Katarina Nash and Shayna Powless. In the pro men's race I got to see Trevor DeRuise, before he face planted, Todd Wells and Topher Lewis. They all raced really well. I was exhausted by the time we got back to the hotel at 5:00pm. We ordered a pizza delivered to our room and were all asleep by 7:00 (8:00pm daylight savings).
On race day morning, I was so nervous I didn't eat anything except a Nature's Bakery bar and one Chomp. I was in the first row with all of the 13/14, 11/12, and 10U but got shuffled back to a second row start, which made me a little mad. My start wasn't bad but my lungs were burning when I got to the first uphill. I passed a 13/14 racer, he passed me back, and then I passed him again and stayed in front this time. I also battled with another 11/12 racer that rocketed down the hills. I was scared of him and wanted to get a big gap between the other racer and me. I finally succeeded on my second and last lap. I felt great through my race thanks to Julie Young's personalized training plan. I finished and thought I did well. Then I found out I got 1st.
I was really happy. Thanks to Roseville Cyclery for the tune ups on my new bike. Also, thanks to my parents for letting me go.
https://silversagecenter.com/wp-content/uploads/2016/03/travis.jpg
640
480
julieyoung
http://silversagecenter.com/wp-content/uploads/2014/06/SS_14171-Logo-Development-SportsLab-Horz-header-300x83.png
julieyoung
2016-03-21 09:44:46
2016-03-21 09:44:46
Travis Hits the National Race Scene - Bonelli Park - Kenda Cup Race