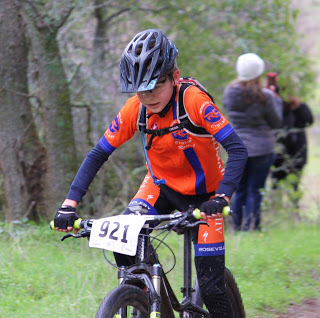 Blog contribution by Silver Sage-o2fitness Hot Shot, Travis Boucher. Enjoy the Read…
I woke upon Race day and felt great and ready to race. I knew I probably wasn't going to get first because of the high school sport kids dropping down to race 2 laps instead of 3. I got to the race and felt great. I did my four mile warm up since it was cold. Then I waited to line up for the start.They changed the start order so I ended up almost dead last out of 47 kids. I had to catch up on the levy. It was very chaotic at the start and I had to dodge people. One kid crashed by the recycling bins. I almost face planted because I nearly was shoved off into a picnic table on the first tight turn.
After the levy, I had to pace myself because of the two laps. I did good on my first lap but my second lap was a different story. On every hill my legs burned. Thankfully, my training helped me stay strong on my second lap and I didn't drop too badly. Sadly, right at the end I was passed by two kids. One I was able to go back and forth with but the other one was gone.
 Photo credit: Craig Dvta
 Photo credit: Yi Chen
Photo credit: Yi Chen
I tried my best and finished 7th out of 47 HS Novice. I'm looking forward to the next race.
https://silversagecenter.com/wp-content/uploads/2016/02/travis1.jpg
318
320
julieyoung
http://silversagecenter.com/wp-content/uploads/2014/06/SS_14171-Logo-Development-SportsLab-Horz-header-300x83.png
julieyoung
2016-02-09 06:54:48
2016-02-09 06:54:48
TBF Race #2 MTB Classic 1/31/16