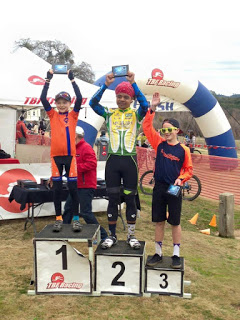 By Silver-Sage/O2fitness athlete Travis Boucher…
When I woke up, I didn't really feel like racing although, once I got to the race, I knew I wanted to be there. It was a nice day and I felt great. I had 27 days of "green" on Training Peaks (greens=completed workouts) so I felt good.I accidentally lined up behind the girls, so I almost got left behind for my race. Luckily, I got into my class but unlucky that I got a third row start. I got a terrible start but pedaled hard and was able to get to the top five before the start of the levy. I rode very smoothly up to 1st and 2nd. I caught up to them at the start of the long hill to the bench, just off the road. They were stuck behind a big group so I was able to catch them easier. I passed them together before the bench. They both seemed much stronger so I tried to put as many people as possible between us.
Photo credit: Craig Dvta
The Julie Young training worked so well that I felt that I had unlimited energy during the race. The course was crazy smooth and awesome because of the recent rains. I saw a few people pushing or carrying their bikes because of mechanical issues but thanks to Roseville Cyclery, my bike worked great. I felt super good during the race and finished first in the Novice HS class. I was very surprised but happy
I thank Julie Young, O2 Fitness, for the incredible training and Roseville Cyclery for keeping my bike in good shape. Thanks also to Castelli for the comfortable kit. Congratulations to Team Roseville Cyclery racers and the new Placer Foothills HS racers on their first race.
https://silversagecenter.com/wp-content/uploads/2016/01/trav3.jpg
320
240
julieyoung
http://silversagecenter.com/wp-content/uploads/2014/06/SS_14171-Logo-Development-SportsLab-Horz-header-300x83.png
julieyoung
2016-01-21 06:40:04
2016-01-21 06:40:04
TBF MTB Kickstart - 1st MTB race of 2016