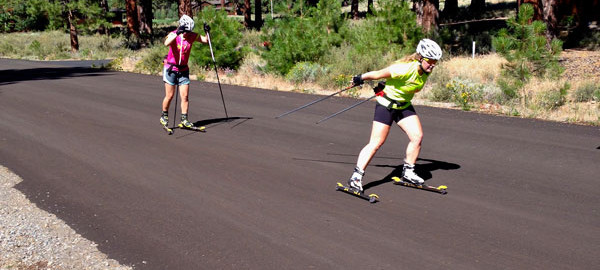 Below a post from Sugar Bowl Academy, Head Nordic Coach, Martin Benes…
In the past couple of weeks, we have done two time trials. While many of our workouts were hampered by the smoke, we found some clear windows in the mornings before school to get out and do some hard efforts. One of these was an old standby, the Drifter uphill running time trial. The other was new, a skate rollerski race from Rainbow Lodge up to Soda Springs, just over 10 km. These hard efforts are always important, regardless of the time of year. In the fall, we will try to do more time trial efforts as they better simulate the demands of racing: both physically and mentally.
The Drifter time trial is a Far West Nordic mainstay, with records dating back to 2006. We meet just of the Donner Lake Interchange exit off of I-80 and warm up by walking and jogging up the trail a ways. The race itself is around 1.5 miles of uphill running, finishing just by Tahoe Donner XC's Drifter Hut. It is a hard effort no matter your fitness and an opportunity to push and go hard. For us skiers, there is little technique to running up a hill, but there are tactics and race smarts. We always mark the halfway point, so that the athletes can try to really nail the second half of the race. We hope for pretty even splits between the first half and the second half, but we're really excited when someone races the second half faster. We do Drifter a few times a year, giving the athletes an opportunity to dial in their pacing and effort, but also to show some improvement. Everyone's body type affects their uphill running a little differently, so what we'd really like to see is personal bests.
Our second time trial was on rollerskis, so definitely more specificity than our uphill running. We felt like we needed a good skate rollerski time trial with enough terrain so that our skiers could use their different techniques and gears, but without any major downhills. A downhill is obviously good practice for a race too, but people have different rollerski speeds, and different comfort levels. As an added bonus, the road was pretty quiet at 7:30 AM and we could run a mass start. We wanted to make this one feel as much like a race as possible. We had a starting line, a double pole zone, cones marking off sections of the course, and meter marks close to the finish. We wanted it to feel like a race and for people to push hard, both physically and mentally.
They were both great time trials and what we saw was our athletes push their limits and see how hard they could go. While there were no prizes or medals on the line, both were good opportunities to get comfortable with competition. To get used to lining up with your friends and peers and laying it all out there, finishing feeling like you're totally spent. You don't need more than a handful of friends or teammates to have a time trial. Pick a start point and a finish point and you've got a race or time trial. It's good to get the experience of racing head to head before it really counts.
https://silversagecenter.com/wp-content/uploads/2014/08/sba-rollerski2.jpg
800
600
julieyoung
http://silversagecenter.com/wp-content/uploads/2014/06/SS_14171-Logo-Development-SportsLab-Horz-header-300x83.png
julieyoung
2014-10-03 14:06:53
2014-10-04 07:08:23
Sugar Bowl Academy Dials up Dry-Land Training