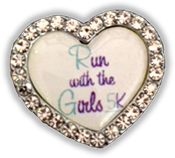 Reno, NV (November 4, 2014) — Girls on the Run – Sierras has partnered with Race 178 for the first women-specific running event in Northern Nevada. The Run with the Girls 5K will take place at Bartley Ranch on Sunday November 16. "We're excited to offer a new race and support a program that strengthens girls through running," said Eric Lerude, of Race 178, which will donate a portion of the proceeds to the non-profit organization.
There will be three heats for the event, with the first two open to the public. The untimed Girls on the Run heat, which is the culmination of the 10-week after school program, will start at 10 am for program participants and their adult running buddies.
The pre-race expo will take place at Scheels in Sparks, from noon to 5:00 pm on Saturday, November 15, and will include yoga classes, a tutu-making workshop, and a women's leadership panel. Scheels will contribute $5 per runner to Girls on the Run – Sierras for every participant in the Run with the Girls 5K on November 16, 2014 (up to $5,000).
The Girls on the Run program is growing stronger in Reno. The program, which is designed to instill self-esteem in pre-adolescent girls through health education, life skills development, mentoring relationships, and physical training, has inspired girls to be joyful, healthy and confident in the Lake Tahoe region since 2007. "Girls on the Run has changed my life and how I feel about myself and other girls," said Paloma, age 10.
At the request of parents and teachers, the founders brought the popular program to Reno in 2012 with 82 girls participating at six schools. Program enrollment has increased by 50 percent to 124 girls in 2013, with another 50 percent increase to 185 girls in 2014. Girls on the Run is currently empowering girls at five new Washoe County elementary schools this fall: Brookfield School, Bud Beasley, Caughlin Ranch, Mount Rose, and Lois Allen. Returning program sites include Jessie Beck, Roy Gomm, Incline Elementary, Dorothy Lemelson, Elizabeth Lenz, Smithridge STEM Academy and Westergard Elementary.
"Girls on the Run is an incredible program because it builds girls' self-esteem by getting them to be active and helping them reach their goal of doing a 5K race," said Girls on the Run sponsor Andy Pasternak MD, of Silver Sage Family Medicine and Sports Lab.
About Girls on the Run
The 30-hour program meets after school twice a week for ninety minutes. The goals of the program are to develop and improve competence, unleash confidence through accomplishment, develop strength of character, respond to others and oneself with care and compassion, create positive connections with peers and adults, and make a meaningful contribution. The program culminates with the girls being physically and emotionally prepared to complete a celebratory 5K running event. Completing the 5K teaches girls about goal-setting and builds their self-confidence.
For more information on Girls on the Run – Sierras and how to volunteer or register for the event, please visit: www.GirlsontheRunSierras.org or call 775-298-0280.
###
https://silversagecenter.com/wp-content/uploads/2015/01/run-with-the-girls-5k-pin.png
158
175
Jackie Shelton
http://silversagecenter.com/wp-content/uploads/2014/06/SS_14171-Logo-Development-SportsLab-Horz-header-300x83.png
Jackie Shelton
2014-11-04 09:17:19
2015-01-20 10:20:18
Inaugural Run with the Girls 5K